Friends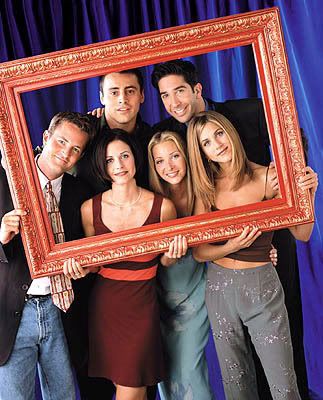 Sitkom "Friends" ini adalah serial kesayangan gua sepanjang masa. Gak tau kenapa, walopun gua udah mengulang

nonton "Friends" belasan (bahkan mungkin puluhan) kali dan udah hapal semua jalan cerita dan tiap kalimat tokohnya, tetep aja gua masih bisa ngakak

tiap kali nontonnya. Gua senang dengan humornya yang cerdas dan well...seolah
everything's gonna be alright as long as you have friends beside you
.
Sekarang sih, gua hanya nonton "Friends" saat gua merasa bete banget ato sedih banget. Semakin besar perasaan bete ato pun sedih gua, maka semakin banyak serial "Friends" yang gua tonton. Pokoknya gua bakal terus nontonin "Friends" itu sampai gua ngerasa better.
Dan sekarang ini?

Sekarang ini rasanya gua pengen banget nonton "Friends" lagi. Dan bukan hanya sekedar 1 episode ato 1 season aja, tapi 10 season sekaligus.
Too bad I don't have that much time right now.

Ah...I'm so tired.

Quote of the day :
"Whenever I watch romantic movies, witness couples kiss and make up, listen to love songs, I smile and feel good cause I know that love still work. If not for me at least for the others..."
-Ally Mcbeal-